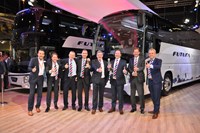 On Thursday, 15 October 2015 Wim van der Leegte, President and Chairman of the Board of VDL Groep, based in Eindhoven, received the Award for 'Bus Builder of the Year 2015' for his exceptional services to the bus industry.
This Award was presented at the official opening of the Busworld fair in Kortrijk (Belgium), held from 16 to 21 October 2015. Wim van der Leegte also won this personal Award in 2003. The prize is a reward for all the effort put in over the past few years by VDL Groep's buses and coaches division under the name of VDL Bus & Coach.
Proud of VDL Bus & Coach
Unfortunately Wim van der Leegte was unable to receive the Award in person and he was represented by Rémi Henkemans, Director of VDL Bus & Coach. Wim sent the following message on video: "It is a great honour to receive this Award. Although it is a personal Award I would like to dedicate it to all our employees at VDL Bus & Coach. We have every confidence in the future of VDL Bus & Coach and winning this Award is a great added bonus." Rémi Henkemans said: "We are continually innovating. We recently introduced the new Futura double-decker, which can be admired at our stand at Busworld. We have also made great progress in the area of sustainable public transport. We are very proud of our Citea Electric, which is already being deployed by our customers in several countries."
About VDL Bus & Coach
The core activities of VDL Bus & Coach consist of the development, manufacturing, sales and after-sales service of a wide range of buses, coaches and chassis modules and the purchase and sales of second-hand buses as well. VDL Bus & Coach consists of multiple bus companies that operate cooperatively in the global market. Manufacturing takes place in the Netherlands and Belgium.
VDL Bus & Coach places aspects such as quality, safety, durability, comfort, the environment, low fuel consumption and low maintenance costs in high regard.
Sales of VDL Bus & Coach products take place through a worldwide network consisting of corporate-owned sales offices, importers and agents in more than 30 countries. This makes it possible to offer custom-made transport solutions.
For after-sales service and maintenance, the client can count on rapid, hassle-free assistance from VDL Bus & Coach employees in any of the many service locations.
An extensive distribution network ensures that spare parts and accessories are delivered to the requested destination as quickly as possible.
VDL Bus & Coach is one of the largest bus producers in Europe.