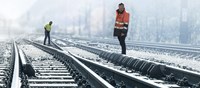 With effect from December 31, 2015, the sale of the Spanish locomotive business of Vossloh to Stadler Rail AG, Bussnang, Switzerland, has been completed. All relevant merger control clearances have in the meantime been obtained. The contract for the sale of the Rail Vehicles business unit, reported as discontinued operations, to Stadler had been signed on November 4, 2015. With the capital gain from the disposal, the equity of the Vossloh Group will increase by an amount in the middle to high double-digit million range. The cash-inflow will reduce the net financial debt of the Vossloh Group.
Rail Vehicles, headquartered in Valencia, was managed by Vossloh as one of the three business units in Vossloh's Transportation division. Its business activities include the development and manufacturing of innovative diesel-electric locomotives and light rail vehicles. In financial year 2014, the company generated sales in the amount of €223.2 million, in the first nine months of 2015, sales were €182.4 million. With the sale of Rail Vehicles, an important step of the medium-term strategy approved in December 2014 has been implemented.
Both remaining business units of the Transportation division, Locomotives in Kiel and Vossloh Electrical Systems, will be sold off either in full or in parts no later than 2017, or be transferred to a partnership that is no longer controlled by Vossloh. Vossloh will therefore consistently pursue all measures to further develop the potential of both businesses. The Group's core divisions are Core Components, Customized Modules and Lifecycle Solutions. The Core Components division manufactures standardized products on an industrial scale, which are required in large quantities for rail infrastructure. The Customized Modules division develops and manufactures systems for rail infrastructure, which must regularly be individually adapted to the customer and the project. Installation and maintenance are related services of Customized Modules. Vossloh is one of the largest and worldwide leading providers of fastening systems, under the umbrella of the Core Components division, as well as for switches and switch systems, under the Customized Modules division. In the Lifecycle Solutions division, Vossloh provides a wide range of rail-related services. This includes the welding and transportation of long rails, maintenance and preventative care of tracks and switches and reconditioning and recycling of old rails. These services also cover the lifecyle management of entire track sections. In Germany, Vossloh is already a leading provider of rail services.
About Vossloh
Vossloh is a global player in the rail technology markets. The core business is rail infrastructure. Furthermore, the Group is active in the areas of rolling stock and electric buses. Since January 1, 2015, the Group activities have been divided into the four divisions Core Components, Customized Modules, Lifecycle Solutions and Transportation. In financial year 2014, Vossloh generated sales of €1.1 billion with more than 4,900 employees.