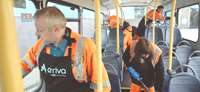 In 2017, 530 tonnes of waste was gathered by Arriva buses, including over 200 pieces of gum from just one depot alone.

And with cleanliness and hygiene on board public transport being voted a top priority for bus passengers, it's no wonder major cleaning is always in progress across Arriva North West's bus fleet.
To celebrate The Great British Spring Clean (2nd - 4th March), Arriva is giving passengers a behind the scenes glimpse into what really goes into keeping its fleet of buses spick and span.
Ever wondered how clean your commute is? Here are the facts:
Each bus cleaned for at least 20 minutes daily, equating to over 1,500 hours every week in the North West. That's 774 hours to clean 86 buses that operate from the Bootle depot alone!


206 pieces of chewing gum are removed from 103 buses at the St.Helens depot in one day


Arriva buses are re-painted by hand every five years, taking seven days to paint inside and out, which is 52 hours in total


To wash a bus uses an incredible 65 - 100 litres of water each night, with 70 percent of the water recycled per wash


Chocolate wrappers, bus tickets, drinks containers, and fast food wrappers are the top five most commonly littered items left behind on a daily basis


Glass, metals, oils and general waste collected on Arriva buses is recycled every day, with waste paper recycled to create budget toilet paper


On average, a whopping 21 newspapers are left on each bus every day
Lisa Pearson, Head of Marketing commented: "We take pride in ensuring that our buses look and feel clean for our passengers, as we know it's a large part of what makes travelling by bus enjoyable.

We hope that by showing them just how much TLC we put into caring for our buses, will encourage people to think before they litter this National Spring Cleaning Week. In addition to this, we hope that our fleet of green technology buses will help contribute to making Britain clean."
The Bus Passenger Survey 2017 revealed that 83 percent of passengers were satisfied with the interior cleanliness of Arriva buses, while 81 percent of customers were also satisfied with the exterior cleanliness of Arriva buses.
The Great British Spring Clean aims to encourage the nation to come together to clear up the litter across cities, towns and villages, and takes place between 2nd - 4th March.
About Arriva
Arriva is one of the leading passenger transport companies in Europe: in 14 countries, providing bus, train, tram, ferry and car and bike-sharing services to over 2.4 billion passengers each year. Every day, more than 60,000 Arriva employees provide customers with transport services that make life that much easier.