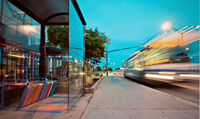 As a best practice, your transit technology should be upgraded every two years (no more than two years behind on upgrades). But do you maintain that?
What we've heard from the hundreds of North American transit agencies is that they're not always sure what to expect during an upgrade, and therefore, may push it off, even when the upgrade is included as part of a negotiated maintenance contract.
In this article, we're debunking the biggest upgrade myths we hear – starting off with Intelligent Transportation Systems.
Myth #1: Upgrades always take a year to complete
Fact: ITS (our TransitMaster upgrade) is one of the faster products to upgrade. You can expect the upgrade to take 60-90 days, from kick off to completion.
Myth #2: It doesn't matter if you upgrade every two years. Doing it every three, four years is as good.
Fact: Unfortunately, that's not true. Upgrading your ITS technology every two years consistently makes the upgrade process smoother. The more disparate the versions, the upgrade may take longer.
When you don't upgrade you miss out on the advantages of new features, functionalities, and bug fixes. You miss out on the software improvements that have been built-in based on industry feedback from your peers. You may lose integration with other back-office products and experience incompatibility issues with back-office products. Depending on the age of the software, you may also need to upgrade your operating systems and databases if you're too far behind. The further you are off the current release, the more training is required, since user interfaces may completely change on new versions. Instead of adapting to a few changes for each release, suddenly you're 10 releases behind and now have to train staff on hundreds of new changes.
Finally, once you are multiple versions behind, data migration becomes more complicated and at risk.
Myth #3: I won't be able to test my agency's unique environment during an upgrade, so why bother?
Fact: When you give notice that you want to upgrade ITS, that's when we build a test environment to be representative of what your agency has. First, we get a copy of your database so we can perform in-house project engineering validation. Second, we create an installation of your system in a virtual environment to facilitate testing and training. A lot of agencies also have very specific features and functionalities that they use. Not all agencies use the same fareboxes, signage, TSP, etc. so by testing in your same environment, we make sure that everything works specifically for what you need.
About Trapeze Group
Our passion is enabling you to meet your goals. We create, deliver and support software solutions and services that make it easier for transportation agencies to manage their complex, day-to-day business operations. We have the unique ability to partner with you for the full 360 degrees of your operations due to our focus on serving the transportation industry with a broad product portfolio.
From the bus stop to the finance department, Trapeze technology is the glue that binds a transportation agency together. We are dedicated to helping you streamline and integrate your many day to day functions. Enabling you to focus on your #1 goal, providing amazing customer service!
Our team gets what you do. The reason why? Is because they have been in your shoes! Many Trapeze employees have been in the transportation business for decades! They know what your pain points are and are passionate about helping you eliminate them and meet your goals, as well as those of your board members.
With our passion and knowledge, we are excited to partner with you to maximize the value of your systems for the long term.